Carolina Military Academy

In Memory
Ellis R. Brewington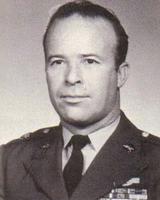 SFC Ellis F. "Sarge" Brewington
Retired Master Sergeant Ellis R. Brewington, 85, widower of the late Evelyn Adams Brewington, of 11 Adams Drive, died Saturday, September 9, 2017 at Hospice of the Piedmont in Greenwood.
Ware Shoals - Born in Laurens County, he was a son of the late James B. Brewington and Irene Lawson Easley. He was a member of Mt. Bethel United Methodist Church, and was retired from the U.S. Army, having served in both Korea and Vietnam. He was also retired from Michelin, where he worked as a maintenance technician, and had worked at Piedmont Technical College as an instructor.
Sgt. Brewinton is survived by one son: Carl Ray Brewington of Ware Shoals; three daughters: Patricia B. Petty of Ware Shoals, Carmen L. Brewington of Ware Shoals and Deborah B. Kerr; one brother: Raymond Brewington of Honea Path; and one sister: Shirley Griffin of Clinton; eight grandchildren, ten great-grandchildren, and a special friend: Joyce Wood Davis of Ware Shoals.
He was preceded in death by one brother: J.M. Brewington; and two sisters: Hazel Vaughn and Inez Crawford.
Funeral services will be held at 1 PM Monday, September 11, 2017 at Mt. Bethel United Methodist Church with Rev. Suzy Sullivan, Rev. Byron Wood, and Rev. Kenny Griffin officiating. Burial will follow in the church cemetery. The men of Mt. Bethel will be honorary pallbearers.
The family is at the home of a daughter: Patricia Petty, 73 Adams Drive, and will receive friends Sunday from 6-8 PM at Parker-White Funeral Home. In lieu of flowers, memorial donations may be made to Mt. Bethel UMC Cemetery Fund c/o Pattie Wood, 844 Mt. Bethel Rd., Ware Shoals SC 29692 or the Wounded Warrior Project at support.woundedwarriorproject.org. Messages of condolence may be left for the family at www.ParkerWhitePruitt.com.
Service Details
Date:Monday, September 11, 2017
Time:1:00 PM
Place:Mt. Bethel United Methodist Church
Cemetery:Mt. Bethel UMC Church Cemetery
Visitation:6-8 PM Sunday at Parker-White Funeral Home