Carolina Military Academy

In Memory
Dorthy Collins (Kirkpatrick) - Class Of 1968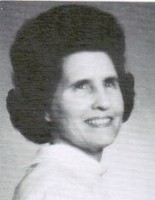 Dorothy

Collins Kirkpatrick
CMA Faculty

HIGH POINT — As World War I drew to a close, Rhett Pendleton Dove and Blanche Jackson Dove welcomed their third daughter into their home in Robeson County and they named her Dorothy. She received her early education in the local schools and continued her education at Campbell College and Meredith College. Having been reared in a musical home, it was natural that she would study music as her major.
After college, she married Neil Carmichael Collins, Jr. of Mullins, S.C. and subsequently became the proud Mother of Judith and Neil III. She was devoted to her family and instilled in her children good character, a love of learning, music, art and culture.
In addition to her involvement in many cultural and artistic pursuits, she studied creative writing and journalism at The University of North Carolina. Her talents first were used in teaching English and as Public Relations director at Carolina Military Academy in Maxton, and later as co-director of Public Relations at St. Andrews Presbyterian College in Laurinburg. She also will be remembered for founding and co-directing the Maxton Music Academy. Dorothy was a member of the DAR, UDC and the Clan Hamilton Society, among others, and a published author. After Mr. Collins's death in 1982, she married J. Mills Kirkpatrick of Maxton in 1985, later retiring to Black Mountain in 1996. In 2008, they moved to High Point to be near family.
She died July 10, 2014 at High Point Regional. She will be remembered for her lovely smile and for having a kind word for everyone.
Dorothy was predeceased by her first husband; parents; sisters Estelle, Josephine and Fay; brothers Rhett Jr. and Tommy; and an infant daughter. Survivors include Mills Kirkpatrick, Judith C. Millar of High Point, Neil C. Collins III (Anne) of Chester, S.C.; grandson, Brendan L. McColl (Ann) of Adelaide, Australia; granddaughter, Ashleigh C. Mullinax (Jason) of Takoma Park, Md.; great-granddaughters Emma, Georgia and Sophie McColl; stepdaughter Betty Tysinger (Gary); stepson Mills Kirkpatrick, Jr. (Brigett); and a plethora of nieces and nephews. Services will be held at 2 p.m. Saturday at Rowland Cemetery in Rowland.
Memorials may be sent to Christ Presbyterian Church, 645 Greensboro Road, High Point N.C. 27260, or First Presbyterian Church, Box 5, Maxton N.C. 28364.
McDougald Funeral Home and Crematorium is serving the family.