Carolina Military Academy

In Memory
Theodore Ross Morris - Class Of 1968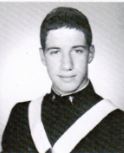 Theodore "Ted" Ross Morris
May 18, 2014
CMA 1967/1968
Charlotte NC
Obituary

for Theodore Ross Morris

Theodore "Ted" Ross Morris, 60, died peacefully Sunday, May 18, 2014 at Carolinas Medical Center, with family and friends by his side.
A native of Charlotte, NC, Ted attended Carolina Military Academy in Maxton, NC; Camden Military Academy in Camden, SC; and Central Piedmont Community College in Charlotte. Ted was a horticulturalist by trade, but his true passion was helping others. For the past several decades, he led the Alcoholic Anonymous program at Park Road Baptist Church and recently earned his thirty-year sobriety chip. He also was a spiritual leader in the practices of the Old Religion of Italy.
Ted is survived by his loving wife, Heather Louise, and his step-son, Tyler Hawk Richards. He was preceded in death by his mother, Harriet Ashcraft Morris, and is also survived by his father, Samuel "Ted" Ross Morris, Jr., of Charlotte; his sister and brother-in-law, Ann and Jim Hogshead of Charlotte; his nephew, Jaime Allison, and his spouse, Julie, of Richmond, VA; his niece, Jessica Merchant, and her spouse, Nate, of Asheville, NC; and his niece, Carrie Dosch, and her spouse, Taylor, of Kailua, HI; as well as five great-nephews and nieces.
There will be two memorial services for Ted, both are open to all. The first will be on Wednesday, May 21, at 11:00 AM, at Park Road Baptist Church, with a reception to follow. The second will be on Sunday, May 25, at 9:30 PM, at Ted and Heather's home at 324 Melbourne Court in Charlotte. In lieu of flowers, the family requests donations be made to the Roswell Chapter of Alcoholics Anonymous, in care of Park Road Baptist Church, 3900 Park Road, Charlotte, NC, 28209.