Carolina Military Academy

In Memory
Dr Timothy S, Llewelyn - Class Of 1966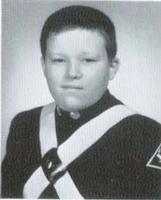 TIMOTHY SCOTT LLEWELYN M.D.
CMA 1962-1963-1964-1965-1966

SPARTANBURG, SC-- Timothy Scott Llewelyn, M.D., beloved area physician, passed away April 11, 2014 following a valiant struggle against cancer at the age of 63. He actively practiced internal medicine for 30 years in Spartanburg, serving over 20 years with the Spartanburg Regional Medical Group of the Carolinas.
Born November 6, 1950, in Baltimore, MD, and raised primarily in Lancaster, SC, medicine was a natural following for Tim, as he was the son of parents who were both physicians, (Louis G. Llewelyn and Helen Ensor Llewelyn). His educational background includes a BS Degree from Presbyterian College in Clinton, SC where he was President of Pi Kappa Alpha Fraternity, a Master of Public Health degree from East Tennessee State University in Johnson City, a MD degree from the Medical University of South Carolina in Charleston, SC, and became Board Certified in Internal Medicine after completing his residency through the University of South Carolina Medical School, Columbia, SC. He served as a Captain in the U.S. Army Medical Corps.
The recipient of numerous honors throughout his career, he was most proud to have been named the 2009 D. C. Hull Physician of the Year, in grateful appreciation of his many years of dedicated, unselfish devotion to his patients, his staff, the Spartanburg County Medical Society, and serving as a Trustee to the South Carolina Medical Association. He was a Board Member of the Medical Review of the Carolinas, and was a founding member of the St. Luke's Free Medical Clinic, the first free medical clinic in Spartanburg County where he chaired the steering committee and served as the clinic's first Chairman of the Board. He was a former Chief of Staff at Spartanburg Regional Medical Center and served on the Credentials Committee, leading many physicians into the world of Bow Ties and those with Bow Ties are encouraged to wear them in his honor.
Dr. Llewelyn was a member of the Episcopal Church of the Advent in Spartanburg, a former member of the Vestry, former youth basketball coach, and an active leader in the Boy Scouts of America – Troop 1. He was a former member of the Spartanburg Downtown Rotary Club among other clubs and associations throughout the upstate.
An avid outdoorsman, Tim loved skiing, hiking and mountain climbing. He trained for a full year before successfully reaching the peaks of Mt. Rainier in Washington, Mt. McKinley in Alaska, and Mt. Illimani in Western Bolivia, often described as "the Beast of Bolivia – 21 thousand feet of madness." His passions in life focused on dancing and gardening. He was past-president of the Shamrock Dance Club and a board member of the Spartanburg Cotillion Club. He was a Certified Master Gardener specializing in growing Hydrangeas. He was also a 35 year member of the USC Gamecock Club and rarely missed attending a USC football game. Although he had many and varied travels, his favorite place in all the world was being with his family at their home by the ocean on the coast of South Carolina.
Dr. Llewelyn is survived by his loving wife of 39 years, Shirley Dillard Llewelyn; his son, Timothy Scott Llewelyn Jr.; his daughter, Dr. Alison Anne Llewelyn; Jenni, his Welsh Springer Spaniel; his brother, Doug Llewelyn of Hendersonville, NC; and sister, Deborah Robertson of Kannapolis, NC. In addition to his parents, he was predeceased by a sister, Lucinda Llewelyn Hammond.
Visitation will be 6:00-8:00 PM Tuesday, April 15, 2014 at Episcopal Church of the Advent Parish and Community Life Center, 141 Advent Street, Spartanburg, SC 29302. Funeral Service will be 3:00 PM Wednesday, April 16, 2014 at the Episcopal Church of the Advent. Inurnment will follow in the church Bell Tower Columbarium. A reception will follow in the Parish and Community Life Center.
In lieu of flowers, memorials may be made to St. Luke's Free Medical Clinic, P.O. Box 3466, Spartanburg, SC 29304 or to a charity of one's choice.
Honorary escorts will be the staff of the Medical Group of the Carolinas, Internal Medicine – Spartanburg and members of the Spartanburg Medical Society.
An online guest register is available at www.floydmortuary.com.
Floyd's North Church Street Chapel.