Carolina Military Academy

In Memory
William (Bill) Earl Lupo - Class Of 1965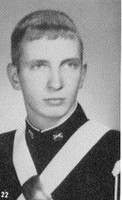 William Earl Lupo, Jr.
CMA Senior 1965
September 14, 2012
William Earl Lupo, Jr. died September 11, 2012 after an illness.
A graveside service will be Friday, September 14, 2012 at 5:00 pm at Evergreen Cemetery, Dillon, SC directed by Cooke Funeral Home of Lake View.
Mr. Lupo was born in Dillon County on November 3, 1947, the son of the late William Earl and Miriam Ford Lupo. Mr. Lupo was a machinist. He also was a veteran of the United States Air Force. Surviving Mr. Lupo is his sister, Angie Jordan: nephew, David Jordon: adoptive family, Sandy, John, and Jonathon Justice; special friends, Carlyle and Betty Price and Connie Edwards and many other friends.
Memorials may be made to McLeod Hospice, PO Box 100551, Florence, SC 29502.