Carolina Military Academy

In Memory
Ronald (Ronnie) Kenneth Coleman - Class Of 1968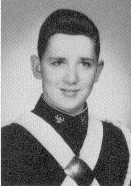 Ronald "Ronnie" Kenneth Coleman
CMA Cadet (Sophomore)1965
Ronnie Coleman's obituary

Ronald K. Coleman

FAYETTEVILLE — Ronald "Ronnie" Kenneth Coleman, 60, of 1327 McArthur Road, in Fayetteville, went home to be with the Lord on Sunday, Nov. 22, 2009, surrounded by his loving family and his dog companion, Noel. He was born May 31, 1949, to the late Kathryn Grace Byrd Coleman and William Carl Coleman in Cumberland County. Mr. Coleman graduated from Methodist College in 1972, and joined the family business that was founded in 1949. He was very active in the community and was proud to be a citizen of Fayetteville. He was the owner/operator of Cole-man Real Estate. He was a lifelong member of Snyder Memorial Bap-tist Church, where he was a deacon and Sunday school teacher. Mr. Coleman was a loving son, hus-band, father, grandfather and friend to all who knew him.

He was preceded in death by his parents, William Carl and Kathryn Grace Byrd Coleman; and two granddaughters, Sarah Noelle Franklin and Harper Grace Coleman. He is survived by his wife Edith "Edie" H. Coleman of the home; a daughter, Stephanie C. Franklin and husband Ron D. Franklin of Fort Worth, Texas; two sons, Brian J. Coleman, Kelli R. Coleman, of Nashville, Tenn., and Benjamin "Ben" Coleman and Melissa M. Coleman of Fayetteville; a sister, Joan Garvin of Fayetteville; a brother, Bill Moffitt of Moline, Ill.; three granddaughters, Kady Franklin, Hannah Franklin and Hope Franklin.

The family will receive friends from 6:30 to 8:30 p.m. today, Tues-day, Nov. 24, 2009, in the fellow-ship hall of Snyder Memorial Bap-tist Church.
Funeral Services will be conducted at 1 PM on Wednesday, Nov 25, 2009, at Snyder Memorial Baptist Church sanctuary with Dr John Cook officiating. He will be laid to rest at Lafayetter Memorial Park.
The Coleman family has en-trusted the services of Rogers and Breece Funeral Home of Fayetteville.
Excert from The Fayetteville Observer