Carolina Military Academy

In Memory
Benjamin Sandford Roper Jr - Class Of 1969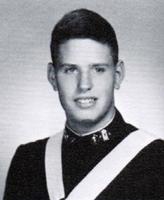 2009
Benjamin Sandford (Sandy) Roper Jr.
Carolina Military Academy
1964 - 1969
Benjamin Roper
Obituary
Benjamin Sandford Roper, Jr. WEDDINGTON - Mr. Roper passed away Wednesday, September 18, 2013 at his home in Weddington. Sandy was a kind and generous man who loved everyone unconditionally, especially his children Ashley and Ben. He lived life to the fullest enjoying hunting, fishing, snow skiing, traveling and being with friends. He was a lover of the Land in his business and in his life; always educating you about the trees, plants and waterways from the beaches to the mountains. Mr. Roper was blessed with a large family, the only son of Sam and Isbel Roper of Charlotte. Sandy is survived by his daughter Ashley Roper Molina (Tristan) and his son Ben Roper, his sisters Connie Connelly, Caroline Roberts (Joe) and Ibbie Alexander (Rick) and his best friend and constant companion Norma Jean Rector. He was preceded in death by his father Sam Roper and his mother Isbel Roper and sister Margaret Lofton. The church service to celebrate his life will be held on Saturday, September 21st at 2:00 pm at First Baptist Church at Indian Trail, 732 Indian Trail Fairview Road, Indian Trail, NC 28079 with Dr. Michael T. Whitson officiating. The family would like to thank the staff of the VA Hospital in Salisbury, and Jan Plyler Green, Kim Outen, and Jan Hall of Hospice Union County for their expert care of Sandy in his final days. Memorials may be made to the First Baptist Church of Indian Trail at the above address. A private interment service will be held by the family for Mr. Roper.
Published in Charlotte Observer on Sept. 20, 2013
to read comments and to make a comment view Guestbook here:
http://www.legacy.com/guestbooks/charlotte/guestbook.aspx?n=benjamin-roper&pid=167049484&cid=full
- See more at: http://www.legacy.com/obituaries/charlotte/obituary.aspx?pid=167049484#sthash.0LrWEikl.dpuf