Carolina Military Academy

In Memory
Wiley Steed - Class Of 1968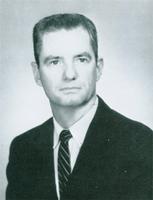 Wiley Dockery Steed Sr. Steed
CMA Faculty 1062-1964 Spanish
Dec 10, 1923 - Aug 23, 2018
WILEY DOCKERY STEED SR.
MAXTON — Wiley Dockery Steed Sr., 94, of Maxton, known as the Western Auto Man of Maxton, passed away on Thursday, Aug. 23, 2018.
Wiley, a son of the late Hubert Franklin Steed and Gladys Hamer Steed, was born Dec. 10, 1923 in Maxton. He was a World War II veteran who proudly served as a Navy Seal with the U.S. Navy. He earned his bachelor's degree from the University of North Carolina at Chapel Hill with the class of 1953 and began his career as an outstanding coach and teacher. He then continued his career as the owner and operator of the Western Auto of Maxton and Steed-Gwinn Hardware. Wiley was a lifetime member of St. Paul's United Methodist Church, where he loved serving as a Sunday school teacher. He was also a member of the Maxton VFW and the American Legion.
Along with his parents, he is preceded in death by his wife Lula Shephard Steed; brothers, James Franklin Steed, and Harold Swaim Steed; and sisters, Thelma Steed Gwinn, and Adelene Steed Williams.
He is survived by his only child, Wiley "Dockery" Steed Jr.; and wife, Dina; and granddaughter, Sydney Marie Steed of Southport; along with his many nieces and nephews.
A graveside memorial service with military honors will be at 1 p.m. on Saturday, Sept. 1, 2018, in the Oak Grove Cemetery of Maxton.
Mr. Steed requested, in lieu of flowers, for memorials to be given in his memory to the St. Paul's United Methodist Church, P.O. Box 429, Maxton, N.C., 28364.
Services are entrusted to Richard Boles Funeral Service.