Carolina Military Academy

In Memory
Ladson ("Slim") Morgan - Class Of 1965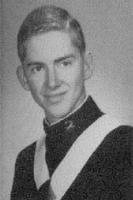 Ladson "Slim" Morgan
Class of 1965
Gastonia, NC

LADSON MORGAN OBITUARY
Ladson "Slim" Columbus Morgan, Jr.

Ladson "Slim" Columbus Morgan, Jr., 64, of Gastonia, died Thursday, December 16, 2010.
He was a native of Spartanburg, SC and the son of the late Ladson Columbus Morgan, Sr. and Lois Waddell Morgan.
A Memorial Service will be held 1:00 PM Tuesday, December 21, 2010, at Mt. Calvary Presbyterian Church, 1399 Walnut Grove Road, Roebuck, SC 29376 officiated by Rev. Dr. Ned Buckner.
The family will receive friends at the church immediately following the Memorial Service.
"Slim" graduated from Carolina Military Academy, retired from the trucking industry, was a member of New Hope Baptist Church in Gastonia, member of the Sandy Ridge Bluegrass Band, US Army Veteran and an avid fly fisherman.
Survivors include his wife of 43 years, Carolyn Linda Lancaster Morgan; son, Jeff Morgan and fiancée, Jennifer Huss of Lowell; daughter, Sonya Platt and husband Mitchel of Knoxville, TN; grandchildren, Annaleigh Morgan of Lowell, Ciara Morgan of Bessemer City, Justin Platt of Gatesville, TX, and Tyler Platt of Knoxville, TN; and brother, Dan Morgan and wife, Lisa, of Tulsa, OK.
In addition to his parents, he was preceded in death by his brother, John Morgan; and sister, Sheila Rhodes.
In lieu of flowers, memorials may be made to New Hope Baptist Church, 2024 Redbud Drive, Gastonia, NC 28056 or The Gideons International, PO Box 637, Gastonia, NC 28053.
Condolences may be sent to www.mcleanfuneral.com
McLean Funeral Directors of Gastonia is serving the Morgan Family.