Carolina Military Academy

In Memory
Martin Waddell MacQueen - Class Of 1966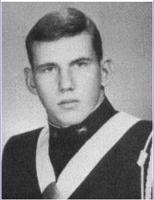 Martin Waddell McQueen
CMA 1965
Banner Elk, NC

Martin MacQueen
October 28, 1946 - February 22, 2021
N. Myrtle Beach, South Carolina - NORTH MYRTLE BEACH, SC
Martin Waddell MacQueen, 74, of North Myrtle Beach, SC passed away Monday, February 22, 2021 at Grand Strand Medical Center.
He was born October 28, 1946 in Richmond, VA, a son of the late Frederick B. McQueen and Sara Waddell McQueen. Martin was a member of Ocean Drive Presbyterian Church in North Myrtle Beach, SC. Mr. MacQueen was a graduate of Lenoir Rhyne University and received his MBA from Golden Gate University. He was a Captain in the United States Air Force and was very proud to be a veteran. Martin was president and founder of Micro View which later became Virtual Image Technology. He was an avid outdoorsman and enjoyed boating, fishing, hunting, college football and a world traveler, having been to 7 continents. He was the family historian of the MacQueen Clan and loved all things history. Martin was part of the Kairos Prison Ministry and served on the board of directors for Piedmont Educational Foundation for Lenoir Rhyne University and on the board of directors for McLucas Cemetery. He loved to spend time with his wife, children and grandchildren.

He is preceded in death by his parents, Frederick and Sara McQueen; a brother, John B. McQueen; and an uncle, Garland Waddell.
Survivors include his wife, Bonnie K. MacQueen of North Myrtle Beach, SC; sons, Scott McQueen (Christy) of Waxhaw, NC, Marc McQueen (Carson) of Columbia, SC and Ron Nash (Scarlett) of Fort Mill, SC; daughter, Rev. Tracy Beadle (James) of Austin, TX; brother, Richard McQueen of San Francisco, CA; and nine grandchildren.

Graveside services will be held 1:00 PM Saturday, February 27, 2021 at McLucas Cemetery in Clio, SC. The family will receive friends immediately following the service.
Memorials may be made to McLucas Cemetery Association Inc. c/o H L Calhoun, Jr., PO Box 696, Clio, SC 29525.

*** Due to Covid-19 restrictions set forth by the CDC we ask that all attendees please abide by the social distancing guidelines and wear proper facial coverings. Thank you for your understanding. ***
Online condolences may be made @ www.bfhbennettsville.com.
Burroughs Funeral Home is honored to assist the MacQueen family.