Carolina Military Academy

In Memory
Robert Kenner Amos Jr.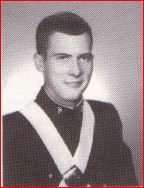 Robert Keener Amos, JR.
Post Graduate
CMA Class Of 1967
Amos Winston-Salem Robert Kenner Amos Jr. Feb. 20, 1948 - Jan. 10, 2018 Robert Kenner Amos Jr., passed away on Wednesday, January 10, 2018 in Winston-Salem. He was known as Kenner to his family and friends. Kenner was born on February 20, 1948 to Robert Kenner Amos, Sr. and Frances Reynolds in Winston-Salem. He grew up in Winston-Salem and graduated from R.J. Reynolds High School. He worked his entire life in waste industries. Kenner was a loving father, a beloved husband, and supporter of his family. He was also an avid UNC Tarheel fan and did not miss a game. His quick wit and humor will be missed by all who knew him. He was preceded in death by his parents and sister Patricia Mauney. He is survived by his wife Marcia of the home; son Dylan O. Amos of Las Vegas, NV; daughter Amanda G. Amos of Charlotte, NC; sister Mary Jane Amado of Winston-Salem; cousins BJ Larmore (Bill) and family of Winston-Salem and Jane Hofferbert (Harv) of Virginia Beach, VA. The Memorial Service will be held at 2:00 p.m. Sunday, January 14 at Knollwood Baptist Church. In lieu of flowers, memorials may be made to the Kate B. Reynolds Hospice Home, 101 Hospice Lane, Winston-Salem, NC 27103 or the Forsyth Humane Society, 4881 Country Club Road, Winston-Salem, NC 27104. Online condolences may be made through www.salemfh.com.​​​​​​​